Scottish Cottage in the City – Guest Suite Reinvention
PROJECT DETAILS
Remodel Type: Bedroom
Design Style: Vintage
Clients Favorite Part: Heated Floor & New Bathroom
BEFORE CONDITIONS
Guest bedroom in a dormer addition from approximately 1955
Toilet stuck in a closet in the carpeted bedroom
Vanity inset in the nook in the hallway from the original house
Semi-reliable radiator took up valuable real estate
No shower or true bathroom on the second floor
Sloped ceiling with dated acoustic tile
Unknown conditions behind the walls
DESIGN SOLUTIONS
Created a 3/4 bath from the bedroom's original footprint
Converted nook in hall from vanity to linen storage
Added radiant in-floor heating throughout suite (under LVT in bedroom and tile in the bath)
Custom built-in nook around the bed with his and her dimmable lighting and storage, inspired by a B&B they visited
New slim, tillable recessed LED lights in drywall ceiling to allow for maximum ceiling clearance with improved insulation above (key for the tall homeowners)
Eliminated all the not-to-code and hazardous plumbing, electrical and structural issues that threatened the safety of the house. Just about everything they could find wrong in the walls, they found.
THE DETAILS
Salvaged stain glass window from Architectural Antiques in the new opening from landing brings in light and historic character
Custom recessed storage along bathroom wall using space discovered under the eaves
All new casings, crystal doorknobs, and vintage-inspired finishes chosen to match original details in home
Solar Tube and glass block "window" in bathroom bring daylight into a windowless room
Color palette and accessories inspired by homeowners love of violets and vintage accents collected on her travels, for a charming "Scottish Cottage" character
Repainted vintage furniture in sunny yellow that highlights their form and brightens the space
Homeowner baked cookies for the contractors almost daily

PROJECT DETAILS
Remodel Type: Bedroom and Bathroom
Design Style: Vintage
Clients Favorite Part: Heated Floor & New Bathroom
Trade Resources and Partners
Photography: Alyssa Lee Photography
Contractor: The Whisker Group
Tile: The Tile Shop
LVT Flooring: ProSource
From The Client
"Rather than laugh at my many and varied decorating magazine clippings, Colleen incorporated some of the ideas and pointed out ways others could be improved upon. Plus, she came up with original techniques that were sheer genius. Her grasp of color is formidable, and her talent at spacial design is amazing. We can't believe how she turned our former handyman special (from a previous owner) bathroom into a spacious and luxurious bath and still kept the bedroom's dimensions comfortable. Colleen is vivacious, high-energy, and fun to work with. We truly enjoyed collaborating with her on our project."
– Keith & Katharyn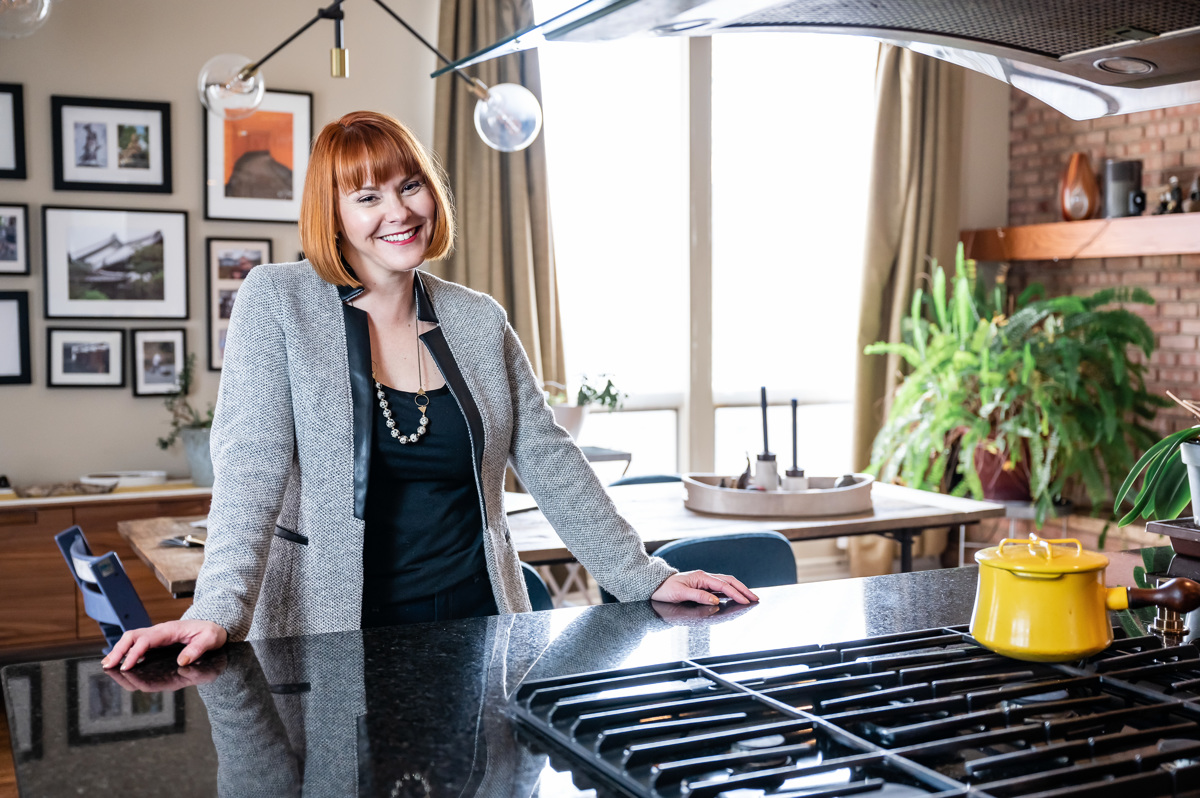 I live in Minneapolis with my landscape architect/urban designer husband, my daughter who believes she's my design assistant and sous chef, an independent Siamese, a feisty grey-striped kitten, and a menagerie of turkeys and other wild animals who visit our backyard for the free food. When I'm not designing, you'll often find me cooking up a Paleo feast, cheering for my daughter's volleyball team, playing pickleball, or hiding in a corner with my nose in a book.