Project Details
Remodel Type: Kitchen
Design Style: Modern
Clients Favorite Part: Unique display space for their most treasured travel mementos
BEFORE CONDITIONS
The kitchen has a large footprint with weird redundancies that functioned inefficiently because the original owner combining two units into one at the time of the building's construction.
The walls around the kitchen created a narrow entry hallway and restricted sight lines of the beautiful views out the windows in the living and dining rooms.
The homeowners had two generations of artifacts collected in their world travels that needed an organized system for display.
The two generation family sharing the space spent many years living in Morocco and wanted to mix those colors and patterns with a modern aesthetic.
Design Solutions
Removed the walls between the kitchen and the entry, living and dining spaces resulting in sweeping views from the front door and an easy flow for entertaining.
The refrigerator was placed off the center column and backed with a bookshelf on the entry side for displaying favorite objects, creating a focal point when entering the home while limiting views of the refrigerator.
The underutilized left side of the kitchen was turned into a bar area to keep guests out of the main work zone.
A curved open bookshelf adds functional storage and countertop space while providing clearance for traffic into the main work zone.
THE DETAILS
Two types of soapstones were used to differentiate the kitchen countertops from the raised breakfast and bar counter zones.
Walls covered in hand painted tiles bring the Moroccan influence to life.
Project Details
Remodel Type: Kitchen
Design Style: Modern
Clients Favorite Part: Unique display space for their most treasured travel mementos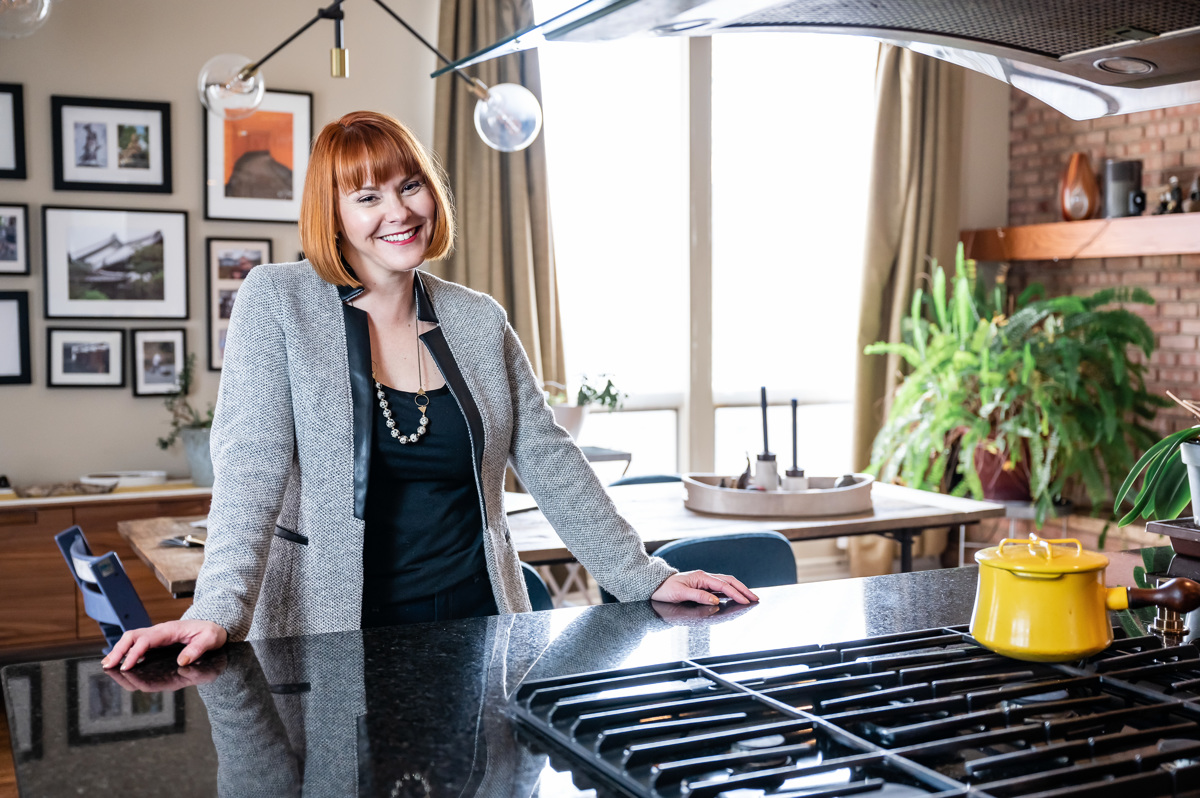 I live in Minneapolis with my landscape architect/urban designer husband, my daughter who believes she's my design assistant and sous chef, an independent Siamese, a feisty grey-striped kitten, and a menagerie of turkeys and other wild animals who visit our backyard for the free food. When I'm not designing, you'll often find me cooking up a Paleo feast, cheering for my daughter's volleyball team, playing pickleball, or hiding in a corner with my nose in a book.