PROJECT DETAILS
Remodel Type: Special Purpose Room
Design Style: Modern
Clients Favorite Part: Rolling desks that combine into one
BEFORE CONDITIONS
Low and oddly angled ceiling
Space lacked a function
Closet lacked storage
Needed to maintain access to connected attic room
DESIGN SOLUTIONS
Created a gift wrapping room for a couple that loves to create elaborately wrapped presents for loved ones, that can also work as a sewing room when they are feeling crafty.
The desks were designed with funky custom graphics in a sustainable material by a local manufacturer and can be rolled together for larger projects.
The versatile storage system allows supplies stored in the closet to be easily accessed and hung from the slat wall behind the desk during a project.
The reading nook reinforces the multifunctional purpose of this unique room. A comfortable chair, side table, and floor lamp allows the home owner to take a break from sewing or wrapping without leaving the room.
New custom rolling carts for their wrapping paper supplies were built to stash in the closet for easy access
THE DETAILS
A bold graphic inspired by their graffiti art wraps the reading nook in bright bands of color and disguises the attic storage door.
The client's unique bunny art is vividly framed to provide balance on the opposite side of the room from the wall graphic.
The bunny art is referenced in a cheeky way as a bunny head was included in the design on each unique desk top.
Eco sensitive materials were utilized throughout the space, from the no-VOC paint used on the walls to the FLOR carpet tiles used to create the rug.
PROJECT DETAILS
Remodel Type: Special Purpose Room
Design Style: Modern
Clients Favorite Part: Rolling desks that combine into one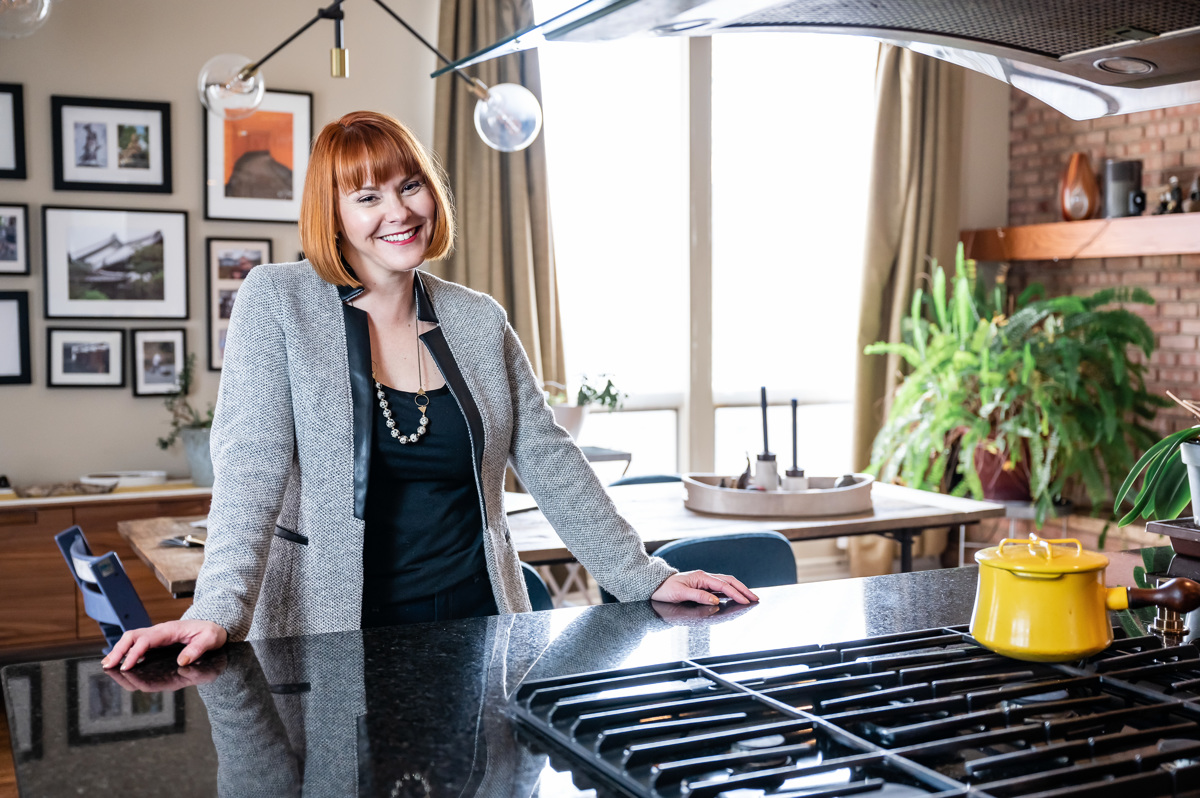 I live in Minneapolis with my landscape architect/urban designer husband, my daughter who believes she's my design assistant and sous chef, an independent Siamese, a feisty grey-striped kitten, and a menagerie of turkeys and other wild animals who visit our backyard for the free food. When I'm not designing, you'll often find me cooking up a Paleo feast, cheering for my daughter's volleyball team, playing pickleball, or hiding in a corner with my nose in a book.